Buying a boat without a name leaves a family of five perplexed.  We had owned it for 7 months before it became clear just what her name would be.  It had made many turns around Okmulgee Lake, pulling kids and adults on water skis, wakeboards and tubes.  We had all suggested many names, both common and obscure.  Nothing seemed to fit.  But on a warm afternoon as another kid managed to get up on a wakeboard, Rob turned and began to holler "get outside the wake".  When said child let go of the rope and he circled the boat back around, he began to explain……."right behind the boat is the wake.  It's rough and it looks scary to go over the wave and get outside the wake.  But once you do, the water is smooth and that's when you really can have some fun.  Suck it up, get over the wake and I guarantee you're going to love this so much more".  On the next pass, the grin that spread across that face, once the wake was jumped, was the confirmation to know that our boat had just been named……..Outside The Wake.

So the next week when Rob ordered the vinyl letters for the boat, he ordered a couple of smaller versions that he put on the back windows of our car.  Outside the Wake had become so much more that just a name for a boat, but a mantra our family quickly embraced as a guideline for life.  It's been 5 years but I still get asked often to explain about what that stands for on the back window of my Flex and I always enjoy sharing the story with those who inquire.
Nineteen years ago, with a 2 year old and a pregnant wife, Rob left a job in banking to set out on his own and buy an insurance agency.  It was a decision that wasn't made lightly or without a lot of thought and sleepless nights.  But it was a chance we took and made work.  A few years later we merged our small independent agency with Fansher, Stone & Milroy, a local independent agency that had been serving Okmulgee since 1928.  In 2001, we partnered with First National Bank and moved the operations of Fansher, Stone & Hess to the main bank location.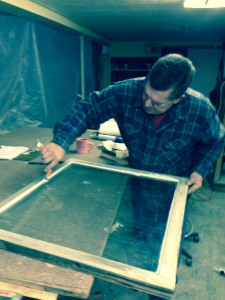 Today, with a nearly 21 year old, an 18 & 11 year old and most definitely NOT a pregnant wife, Rob is hanging up his insurance hat and stepping Outside The Wake to follow his passion; practical preservation, construction and property management.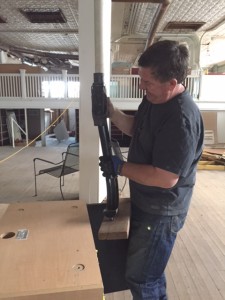 He and The Mac are in the middle of the wake right now. While the roof is on and the window repair is nearly complete, there is much left to do. The next few months will encompass many changes as her electrical, plumbing and climate control systems will be overhauled.  But her captain will be right there with her, steering her though the rough waters until she can get "outside the wake" where it is smooth.
One thing for certain, that I bet his insurance family and customers can attest to, is that Rob will do what it takes to get "outside the wake".  From reviewing policies, working claims and offering advice on coverage, he has touched the lives of many people.  He's enjoyed working and establishing friendships with others in the industry throughout the state.  Rob knows his insurance but also knows that now is the time to follow his passion.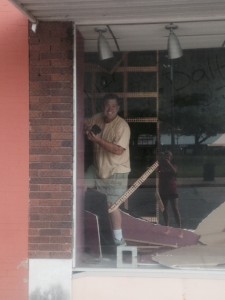 I've never been so proud of him.  His accomplishments are many but as he follows his passion and restores this grand old girl, I know he will thrive and shine.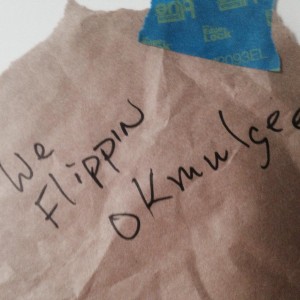 And I'm the lucky girl that still gets to be right by his side.
#okmulgeerising