What is wrong with me?                                                                                                                                     I'm having  anxiety, a panic attack and fear over two pieces of paper.
Two sheets……8 1/2″x11″ have me hostage.
This doesn't scare me……………..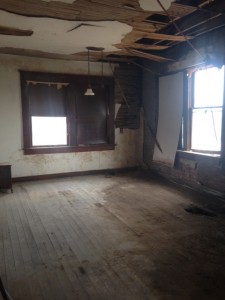 Neither does this…………….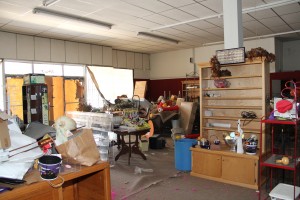 I'm not even afraid of these former tenants we evicted………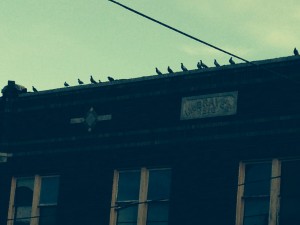 I even have a guy in OKC that sent me the two pieces of paper that has pledged his whole-hearted support and will proof-read what I write to make sure it's correct……
What do I have to be afraid of???????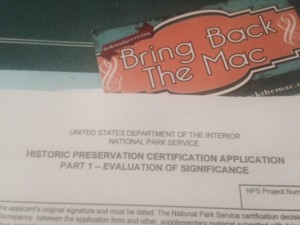 Maybe I'm afraid I won't do my girl justice?  Maybe I'm afraid that the folks at the department of the interior won't recognize how beautiful she is and won't deem her worth saving?
You see, for those of us just crazy enough to take on a historic preservation project, there are some ways to get assistance.  There are federal and state (in Oklahoma) tax credits for qualifying historic preservation projects.  It's a program that is handled by the US Dept. of the Interior through the National Parks Service.  Each state has a historic preservation officer (SHPO) that is the contact to make application.  My new pal Harry Simms is Oklahoma's man.  I have yet to meet Harry personally.  But if my phone conversations, e-mail communications and visits with mutual acquaintances are correct, I think we will get along just fine.
Just to make it clear…..Harry nor the NPS (National Park Service) are just standing around handing out checks.  The application process is going to be an education in and of itself.  You see, their goal is to insure that historic preservations projects are done correctly.  They share the same passion as I do.  They want to help preserve our history through our buildings.  They want photos and documentation and details of the condition of the property.  They want the historic history of the property.  They want you to show them how it's a contributing factor to the history of America.  The have done this before and know what they are doing.
I have not……..and I think that's what scares me.
So after a day filled with laundry, cleaning up the kitchen, making lunch, going to an apartment and pulling up tack strips & staples from where we removed carpeting that was over a hardwood floor, I finally took a deep breath, spread out the contents of my file folder on tax credits and began to complete Part 1 of the application.
I didn't even have to lock myself in here to get it started…..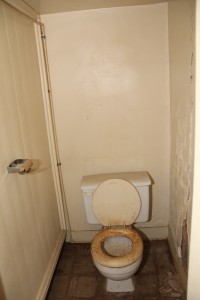 Tonight,  I have my rough draft of the description of physical appearance and statement of significance ready to e-mail to Harry tomorrow for his review.  I'll go have the 90+ photos that my friend Paul A. Orosco took printed tomorrow so that I can create a photo log and key to submit with my completed application.
So now I guess the only thing that I have to be afraid of is this………..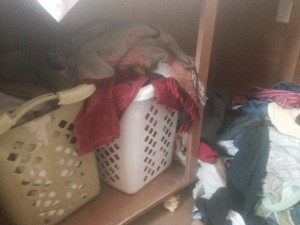 the laundry baskets are bottomless.   It's hot and sweaty work in the middle of a typical Oklahoma summer.  We change clothes many times each day.  I think the clothes breed every time we walk out of the door.
But I have accomplished another first in this journey.
I wonder if there is a tax credit for laundry services while restoring a historic building?  Think I'll ask my new pal Harry about that tomorrow.