I got to spend Monday morning with 3 "McBrayers", touring the Mac!  I had so much fun I that I forgot to take a dang picture, so no visual…..sorry!
Nancy McBrayer Gleeson brought her kids, Michael and Amanda down for a visit today.  Nancy's grandfather, Thomas Humphrey McBrayer built the Mac in 1916.
Three days after we put the building under contract, my brother called me and said "I'm going to text you a name and phone number.  It's for a relative of the McBrayer's who built your building.  You need to call him."
"Ok…"…….click.
Really…….I'm just supposed to call some guy up out of the clear blue sky and start in about how I'm buying a building that was built by one of his relatives?????
I did……"Hi….I'm Margaret and my brother gave me your name & number.  I'm calling because I'm buying a building in Downtown Okmulgee that one of your relatives built.  Call me back when you get the message so we can discuss….."
Thank the Lord I got his voicemail.  What kind of nut job is this guy going to think I am?
Two hours later the phone rang…….
"Hello….Margaret?  My name is Nancy Gleeson and my son Michael just called and gave me your number.  He said you called earlier today and said you are buying the building that my Gampy built in Downtown Okmulgee?"
Gulp…….."yes ma'am.  We are buying the McBrayer Building and are planning to restore it"……..and an hour and a half later………my brain was overflowing with all things McBrayer over the past 98 years!  I had hit the mother lode!!!!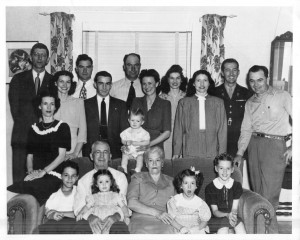 Meet the Thomas Humphrey McBrayer family!
Thomas & Nanny Lou moved to Okmulgee in 1910, where he worked for a railroad and a wholesale grocery company.  He later went into business for himself with a feed store and in 1916, built the building.  His feed store was housed in the back.  He later went into real estate, lease buying and the oil business, making many of his deals in the lobby of the Parkinson Hotel that sat directly west of his building.
The McBrayer's had six children: Thomas, Martha, Andrew (whom they called Bill), Mary Louise, Sara Kathryn (Katy) and Nanna Lou (Dan).  They attended the Methodist church.   Thomas married & moved to Hollis.  Martha married Orus Bingman and resided in Okmulgee her entire life.  Bill lived in Bartlesville (dad to my new pal Nancy) and retired from Phillips.  Mary Louise married & moved to Henryetta.  Katy married Henry Martin and they lived in Okmulgee and had Martin Monuments.  Dan lived in Oklahoma City.  The six siblings are all deceased now and they died in the same order in which they were born.
The McBrayer Family owned the building until 1997.  Nancy and her brother Andy, came with her Dad, Bill, to move things out of the upstairs offices at that time.  Many of these treasures they have saved through the years and are now sharing them with me!
It's funny because I have been surrounded by McBrayer's most of my life:  Martha and her husband sat in the row behind my family in the balcony of the First United Methodist Church every Sunday throughout my childhood.  Katy and her husband Henry were close friends of my Mom.  Sis, Tom, Katy & Henry enjoyed many years of Friday night dinners out and were all members of The Harmony Sunday School class at FUMC.  Katy's son, Bill & wife Danna are still very active members of our church today.
I look forward to having the whole McBrayer clan attend the 100th birthday celebration for this beautiful building that has been a part of their family for so long.  And I look even more forward to exploring more of the history of this family that has made such a lasting impression on our hometown.