We have been focusing on the 2nd floor spaces at The Mac awaiting the former tenant to remove personal items from the ground floor spaces. That is almost complete so today, we decided that it was time for some fun.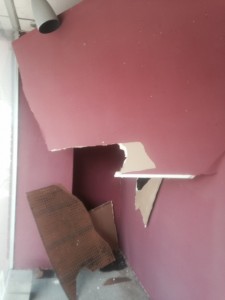 Rose colored sheet rock has never been a favorite of mine.
Maybe we should just rip it out……..it's pretty ugly and maybe it's covering up something great………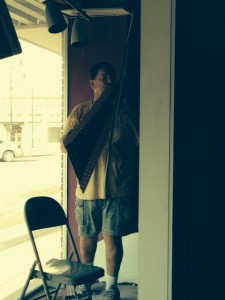 Nothing quite as satisfying as ripping out old and ugly painted sheetrock.
Especially when you have a pretty good idea of what's behind it and
Especially when you know that no one else has been in that space for nearly 50 years and
Especially when you have a crowbar in your truck!
So I got to wait, camera in hand, sitting in the display window on 7th street late this afternoon.  It didn't take very long until this is what I saw…….
Today, for the first time since it was closed in 1964, the staircase on 7th Street saw the light of day.  The hand rail is covered in a thick layer of dust and the bottom step had been removed but Rob walked right down to greet me.  (Don't you love the grin on his face?)
Not 5 minutes after this monumental discovery, our neighborhood watch dog, Kim Priegel stopped by.
Kim and the rest of the gals that work in the District Attorney's office across the street are the best neighbors ever!  They step out and cheer us on when we are working.  They march across the street and run folks off who are rummaging through our treasures that are stored in the alley.  They even called one day to alert us that a thief had just loaded up all of our lumber and was headed off in a dark pickup.  Little did he realize that we have many sets of eyes guarding the Mac.  He was a little more surprised when our handy man Geoff followed him to the local tire store and escorted him back to the Mac to unload all of the lumber that he had "obviously" taken by mistake.    When I say we have the best neighbors, I'm not exaggerating.
But in addition to being a great neighbor and a dedicated Okmulgee Main Street volunteer, Kim has a long history with The Mac.  You see, she worked at C.R. Anthony's Department Store for many years.  So today, I got to hear her story.  She showed me where all of the different departments were housed.  She showed me where her counter stood in the shoe department.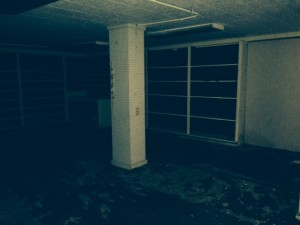 The gift wrapping stand is even still in place……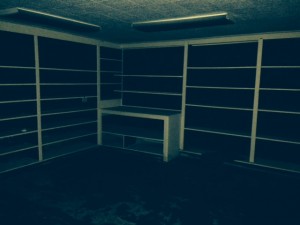 We found the shelves that housed the bolts of fabric in that department.  She showed me where the men's suits used to hang and the shelves that used to be full of Wrangler's jeans.   She cringed just a little as we entered the mezzanine that housed the ladies clothing department, remembering the woman in charge that you didn't want to cross!!!  It made me nervous just imagining her.
Through the entire walk thru, Kim always referred to it has "my" shoe department, "my" fabric department and "my house goods".
This space was a part of her daily life for years.  She took, and still takes,  great pride and ownership of it.  She's only one of many Okmulgee kids who worked through high school at C.R. Anthony's.
I love how The Mac is apart of so many lives.
I love that shortly after we opened up the staircase, our friends and neighbors, Teresa and Brooks Brewer (the Brew Crew at KOKL 1240 AM) drove by on their Harley and waved.
I loved even more when they circled the block, parked and came in the front door, walked through the pile of sheet rock and up the newly opened staircase for a tour of the upstairs.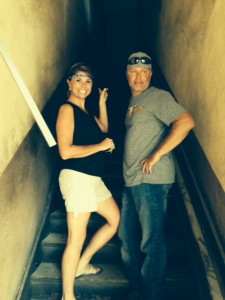 I'm thankful for the lives that The Mac has touched.
I love the stories of those who have called her their own.
I love the new friends and those whom we have become reacquainted with this summer spending time in Downtown Okmulgee.
I love this sense of community that you feel on the streets now.
I love that Summer of 2014 will be long remembered as the start of Okmulgee Rising!
And I really love that I never have to worry because if we are not there, Kim and her posse in the DA's office have got it all under control on South Morton Avenue.