They say time flies when you are having fun. I think time also flies when you are working hard towards something you love.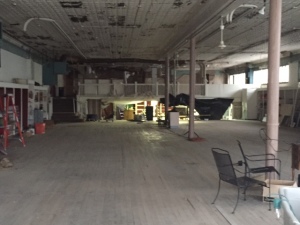 Walking in the front door and seeing this still stops me dead in my tracks.  Rob is the same way.
It's often surreal to think we are the caretakers of this beautiful old building who has stood with such grandeur on the south side of the Square for nearly 100 years.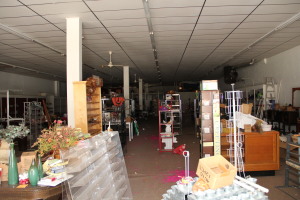 It's hard to believe that this is a photo from right inside the front door a mere 6 months ago.
It's amazing what Rob and his work crews have accomplished in such a short period of time.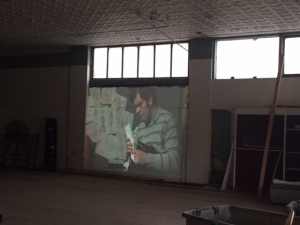 That may have come to a screeching halt yesterday when they discovered that one of her walls is a perfect "screen" for movies.  I caught them screening "The Only Oly" late in the afternoon.    They also have declared the Mac downstairs a great place to fly remote controlled helicopters and Rob is dying  to get us all roller skates.
And if he ever finds any bowling lanes on Craig's List or Ebay, we are all going to be in trouble.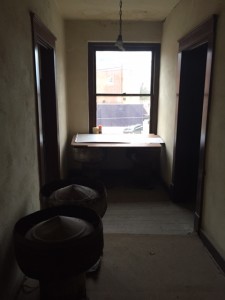 Here is the central command upstairs.
Rob took the vent stack that were removed when the roof was replaced and fashioned a table by putting a board on top.  We needed a place to keep the blueprints so here it is.
We also repurposed the carpet that was removed downstairs.  We now have "runners" covering the hardwood floors in the upstairs hallways.  We don't want to damage or cause too much wear to the floors while the work is going on.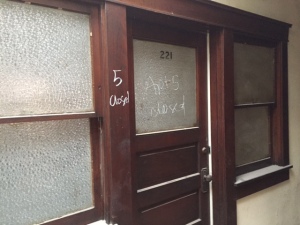 I used Mark's sidewalk chalk and have marked all of the rooms, doors that will be left and permanently closed,  office suite walls to be removed to create open living spaces.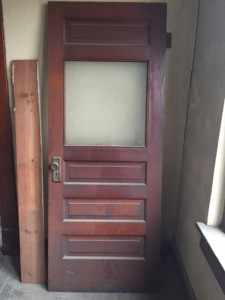 We've removed the interior doors that will be repurposed for use as bedroom, bathroom or closet doors.
We have been careful to bundle and mark the trim and door pieces so that they will be replaced in the proper location.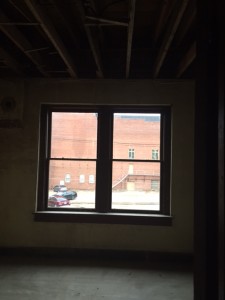 But the biggest transformation to date has to be the window rehabilitation that has been taking place over the past 6 weeks.
If you drive down Morton Avenue, you will see that all of the windows on that side of the building have been updated.  While they may appear to be new, they are all original, 98 year old windows.  They have just had an extreme makeover.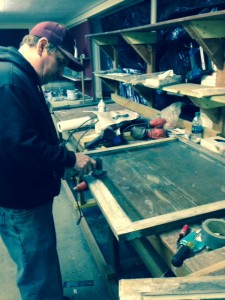 After the windows are removed, they take a trip downstairs to the  "shoe department" which has been set up as the window rehab bench area.  Citrus paint remover is spread over the glass and all of the paint is scraped from both sides. The old weight cords are removed and thrown away. Then, the heat gun comes out to soften the putty so it can be removed.  Once it's out, the glaziers points come out that are holding the glass in.  Carefully oh so carefully, the glass is removed and set aside.  (You'll notice there are no pictures of me on window rehab as I was fired after I broke 3 pieces of glass). The hardware comes off and goes for a soak in a vinegar filled crock pot.  After an hour or two in the vinegar bath, a good scrub with a stiff brush and buffing with a soft cloth and the hardware looks better than new and is ready to go back into place.
Then the wood frame is scraped, sanded and repaired with bondo if needed.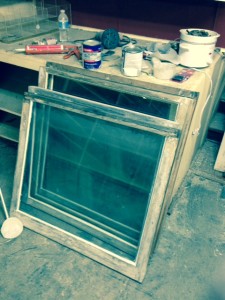 Here are several that are ready for paint.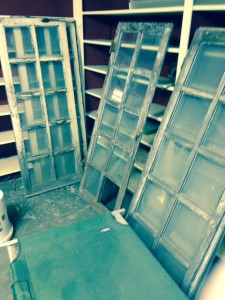 These are the windows that were salvaged from the back of the mezzanine.  They are tall and have 10 lights each.  I declared that I wanted to refinish these.  I think they may let me since the glass is in small sections and maybe I won't break them.
It's truly amazing what a few hours, a few tools, bondo, glazing and paint can do for 98 year old windows.
Here's a glimpse of what they look like back in place today……
With the beginning of 2015, the countdown is on.  Our girl will be  100 years old in 2016 and our goal for upstairs renovations to be completed.  It's amazing how far she has come in just six months.  And we can't wait to see what her 99th year will bring.  And we are so honored to be a part of her comeback as well as the revitalization of amazing places and spaces throughout historic downtown Okmulgee.  #okmulgeerising