So I curled up under my electric blanket with a snoring bulldog at my feet and a snoring husband at my side and I began to read……Chapter 1….Chapter 2…..Chapter 3……wait a minute……what town is this book about?  Chapter 4, Chapter 5………it can't be about Siloam Springs…..Chapter 6, Chapter 7……….good golly…..this guy has to be writing this about Okmulgee.  "Rob…..wake up……you've got to listen to this……….Rob…..".
The next morning I thrust the book at Rob with the , "you have got to read this book".  I got the standard "ok" and then he set off for the day's activities.  So I texted Rusty, "have you read this book?" to which I got the usual "I've started it and I need to finish it".  That earned him the scream via text "GO GET IT RIGHT NOW AND START READING SO I'LL HAVE SOMEONE TO DISCUSS IT WITH!".   A week later, with no one having read it and having no one to discuss it with, I pushed it all to the back of my mind…….or at least I tried.
Fast forward a month.  We had found our new Main Street director.  I gave her a couple of weeks to settle in before I appeared in her office and thrust this book in her face. "Please read this book.  The town that he's flipped is very similar to Okmulgee."I went home and asked Rob again, "please….read this book."  His response, "do they make it on an audio book?  You know I never sit still long enough to read.  Get it on audio and I'll listen to in my truck."  They don't make the book in audio.   Dang.  Back to square one.
Several weeks passed and I finally just let the book go……obviously none of my contemporaries were readers.  Then I got the call from Heather, our new Main Street director.  "Guess what? Ron Drake….the book guy is going to be presenting in Sapulpa next week and I've gotten us an invite to come hear him!  Are you in?"    "Well, yeh….."
Well, the presentation did not disappoint any of us that attended.  Even my non-reading pals were intrigued now.  The message was clear and straightforward; your downtown is not the only downtown that is not thriving.  You have to embrace the businesses that are located on the highway as they are an important part of your town.  Downtown is a different niche.  Take a good look at your downtown spaces in a different way.  Imagine if the 2nd story spaces were loft apartments.  If you get people living downtown then they will bring life to downtown.  They will want cafes, coffee shops, book stores, art galleries, cool shops to frequent.
So the next day, at any given time, you could spy us walking around Downtown Okmulgee, looking up, seeing what had been right in front of our faces for the past 100 years and imagining things in a whole new perspective.  By days end, Okmulgee Main Street had contacted Ron and hired him to come over and consult.  In that conversation, Heather asked what he thought about several of us coming over for a day trip to experience Siloam  Springs for ourselves.  Two weeks later, we loaded up in a borrowed church van and took ourselves a little road trip.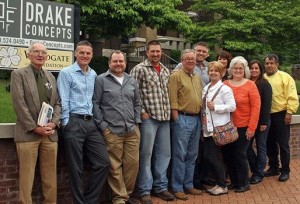 After a tour of several of the  loft apartments, retail spaces and Ron's office we settled in for lunch at 28 Springs.  It was fun to walk in and see familiar faces as many of the people we had met earlier in the day were there dining as well.  Ten of us enjoyed a great meal and spent the ride home brainstorming about the potential that we have in Downtown Okmulgee.
One of the last comments I made to Ron as we left was, "you are going to absolutely fall in love with Okmulgee when you see our buildings."  To which I got the standard reply "I'm sure I will."
Well, not being one to just sit by and do nothing, I called my fellow MS board member and photographer Paul A. Orosco and asked if he'd take a few shots of some of our downtown buildings so we could send them to Ron before he visited Okmuglee.   Anyone who knows Paul won't be surprised that his reply was "Sure."  And no one will be surprised that when he brought me a cd of the requested photos there were 97 shots of Downtown.
They say a picture says 1000 words…..well, Mr. Drake was speechless when he saw our downtown.  He even made a detour to come through Okmulgee the week before his scheduled consultation so he could see them for himself.  I think he fell in love with Okmulgee's downtown that day.
Behind the scenes and on the QT, Rob and I had been looking at a beautiful building downtown.  I could hardly contain myself and keep my mouth shut until we worked out the details to get it under contract.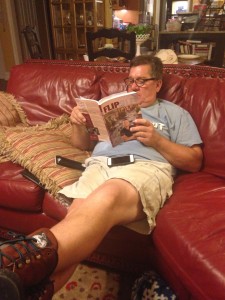 As you can see, I finally convinced him to sit still long enough to read the book…………………
……….and this is where our story begins.