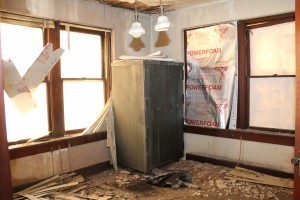 Let's just go ahead and get it all out in the open right now…………….it's the question that is looming in the back of everyone's minds………the proverbial elephant in the room……..
"Have you two lost your minds?"  (We know that you are all thinking it…….)
Who in their right minds can look at this……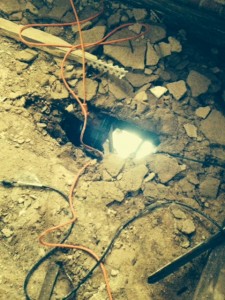 and this……..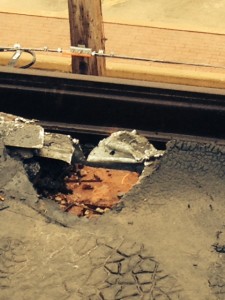 and this………..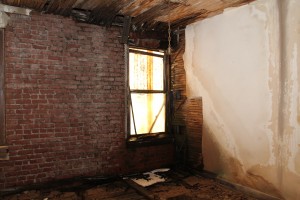 and this……and see anything positive?????
Folks…..it's not all cool preserved woodwork and neat windows.  It's not all beautiful hardwood floors and retro sinks, light fixtures and doors.
This is not going to be all glitz,  glimmer and fun.  It's going to be work.  It already has been.  It's hard, sweaty, dirty, gross and down right disgusting, at times, work!!!!
Our sweet girl is chock full of flaw and imperfections.  She's lived a hard 98 years.  She's been neglected.  But the one thing we know for certain is that we HAVE NOT lost our minds.
Over 20 years ago when we were newlyweds, thinking we were in total control of the path our lives would take, we discussed moving back to Okmulgee.  The big 3 factors were:
We wanted to have and raise our children surrounded by our family.
Rob wanted to join Rotary as his Dad had been a long-time member.
Rob wanted to buy & manage rental property, as his Dad had done for many years.
While we've had many detours, set-backs and changes throughout our lives  but these desires have been met.  Our boys have grown up living within 1 mile of all of their grandparents and their Mammy (my sister, Mary).  Rob has been going to Rotary on Thursdays at noon since 1992 and we have bought, renovated and even sold rental properties throughout Okmulgee.
So while you might think we are a little bit crazy…..(and we'll both admit to that with pride), this isn't exactly our first rodeo.
Rob has worked on rental property since he was 14.  He's also been an insurance adjuster, an insurance agent and real estate agent.  He worked for years in finance.  I've had my real estate license for 7 years.  We've learned from, and with, each other for years.  We've unclogged toilets, pulled staples out of hardwood floors, scraped wallpaper, scrubbed nasty refrigerators and gotten up in the middle of the night to go let tenants in who have misplaced keys.  We've met the police to break up wild parties and stood and endured an enraged tenant as he called us every name in the book.  We have often said we could write a best seller just using our experiences with rental property.
We've also met some great people through the years.  We're  proud when others call and have been given our names from a friend who has rented from us before.  We are proud when tenants graduate from OSU-IT and move away to begin their dream jobs.  We have gotten to meet and play with kids while their parents look at our properties to see if it will fit their needs.
And while we have never taken on a project of this size or scale.  and don't know what the next 18 months will bring, we are excited to pour our hearts into it.
We go to bed talking about it and get up talking about it.  It's still new and exciting and fun, but we fully embrace that there will be issues and problems and days when we will throw our hands up in frustration.
But she's ours and we love her and we are  just crazy enough to have faith that it will all be a great chapter in the story of our life.