I've been accused before of talking too much.  As I get older, I realize that often times less is more.  So I'm going to keep quiet for a bit and just let you take a look at the treasures we have uncovered this week………
This is one of 5 skylights that sit on top of The Mac.  They have been boarded up for who knows how many years.  They are made of metal and have glass imbedded with chicken wire in them.  The chimneys on each end are for ventilation purposes.  Not only did they serve to provide natural light into the upstairs spaces, but also contributed to the ventilation in the days before air conditioning.  We have just been dying to get them opened up again and see how much light floods in.
So Monday morning, as I was sitting at my desk, finishing up my 2nd cup of coffee and determined to spend the day working on so many things I've neglected at home this summer, my phone rang………
"What are you doing?"……..
"Working.  Trying to get my desk cleared off and organized.  Playing catch up.  I'm not leaving the house today until I've gotten everything on my list checked off.     Why?"
"Let's go open up a skylight on the Mac…….."
"Be right there!"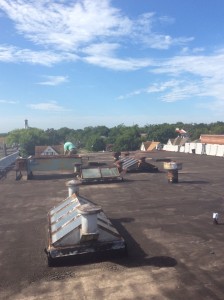 Here is the view of the roof, facing south.
( Isn't that a beautiful Oklahoma summer morning sky?)
We are going to have a new roof put on the building next week.  We have talked with Allen Lewis, (our roofer) about putting in skylights.  We have talked with Ron Drake about skylights. We have researched skylights.  There is one common word that seems to be associated with skylights…………….LEAK.
So here we go.
Decision time.
Do we take a chance on installing  the 2 large skylights where they were originally located in the central hallway or do we seal them off forever underneath the new roof?
Is this one of those 'practical preservation' things that we consider?
Do we risk that we may have to deal with leaks around the skylights if we decide to put them in?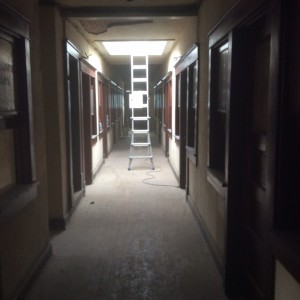 It just took one look down the hallway with all of the light flooding in from the uncovered skylight to make the final decision.
Of course the skylights are going in!
These beautiful original ones will be mounted so they hover above the new skylights (yes, Allen Lewis…..start thinking about how we are going to do that).
Here's a glimpse of what that is going to look like in a few weeks……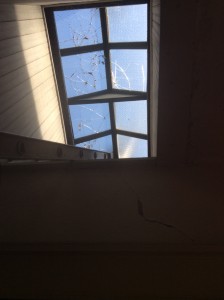 You see that the glass is cracked.  The softball sized hail that swept through downtown Okmulgee in the Fall of 1998 is responsible for that.  That will be another decision as to whether we replace that cracked glass or just leave it in place since it's going to be decorative.
That will be a decision for another day.  My desk full of clutter and list are waiting.