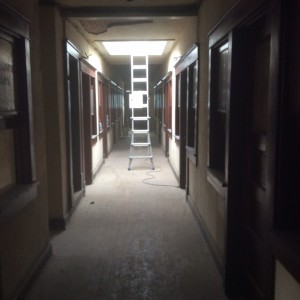 On a warm summer evening, over 80 people gathered together on hallowed ground in the center of town with a common desire; Hope.
There were business people, retirees, bankers, lawyers and teachers there.  There were many who had lived in this place for a lifetime,  together with new comers.  There were city leaders, Muscogee Nation leaders, Education leaders gathered together.
As I stood at the top of the stairs greeting guests and directing them to the food and tables, I saw faces I'd know for a lifetime.  I made new acquaintances.  I had butterflies in my stomach wondering what the evening would hold.
Never in my wildest dreams could I have imagined the connection that would be made in that very room, on that very night that was going to change my hometown forever.
You see, 226 days ago, a fire started in the Historic District of Downtown Okmulgee, Oklahoma.
We are no strangers to fire.  In the late 1970's and early 1980's, we lost blocks of historic old buildings to the ravages of fire.  Treasures that were once grand and strong were reduced to rubble.  The only thing that remains are the photographs, memories and stories of time spent within the walls.  Fire is devastating and a constant fear of those who love historic old buildings.
But this was a fire of another sort, one like we had never experienced before and that would smolder and burn through the entire community.  The fire of hope.
226 days ago was the day #okmulgeerising began.
It was the day that a connection was made with a university leader who had a vision of how a great working partnership could be formed.  It was the day "Okmulgeeans" began to observe and look at the place they called home with a whole new set of eyes.  It was the day that barriers began to break down and conversations began.  It was the day mindsets changed from "we can't do that" to "how can we make this work?".
It's been an amazing 226 days.
Day 227 is going to bring more fuel for the fire that will perpetuate it's flame for years to come.