I knew there were some amazing spaces above the sidewalks of Okmulgee but few had I ever seen.   I grew up here.  I took dance lessons from Phi Delta Lee Neal on the back mezzanine of the Commerce Building at 7th and Grand.  I used to love to ride the car elevator to the second story of Fidler-Harlan and gaze out of the wrap around windows at my home town.  As a kid I'd roam in and out of Jones Furniture, M&D Star Drug, Ramsey's Department Store and many other of the shops that called downtown home.  But by the mid-70's,  when I was growing up, there were no occupants of the upper stories of our downtown buildings.  It never even occurred to me that there was anything more than what was directly off of the sidewalks.
Rob had often mentioned  touring the offices in the 2nd story of the building at 7th and Morton.  He had asked the building owner, who was a childhood pal and fellow Okmulgee High School Class of 1979 graduate, if he would take him upstairs one year during his reign as the "Head Nut" (also known the chairman of Okmulgee's annual Pecan Festival that was held for 15+ years in June).  It was the Summer of 1995 or 1996 (he was the Head Nut for 3 years).   Every so often, over the past 18 or so years, Rob would occasionally mention those offices; usually when there were tales being told about the history of Okmulgee or the Pecan Festival.  It was never something that was ever given much of a second thought.  That is, until the phone call this spring……
"Hey Rob……someone told me you would be interested in buying the building at 7th and Morton if it were to come up for sale?"
The retail store there had been closed for 7 or 8 years.  The display windows were covered with paper and the upper story windows were either boarded or broken and the only inhabitants were a gang of pigeons.
Rob replied, "Who told you that?  I don't really need any more property to manage.  We downsized 3 years ago from 30 units to 14 units.  I'm getting old and tired.  I do nothing but work all of the time now.  But you know……I would like to maybe see the building"………..
So we took a tour and thought we were really being sneaky parking down the block and around the corner.  When we walked out of the front door, there stood several ladies who were setting up for the annual Relay for Life event.  As soon as we emerged we got the "Hey…..are you guys going to buy this building?"  And where it came from, quick as a flash, I replied, "no…..just doing a routine insurance inspection".
And immediately I began to consider the ramifications of just having told a flat out lie to a friend……..who is not only a teacher but Catholic to boot…………….
While I was considering what my eternal life was going to be like, having just committed the one sin that I preach CONSTANTLY to my kids to not do, the ideas began to churn….. "what 'if' we bought the building?  What if we made apartments upstairs?  What if we divide the 7000 square foot retail space into smaller spaces?  What if…..what if…..what if…."
Several days passed.  Several dreamy discussions took place.  We decided to make an offer.    And we waited….and waited….and waited.  Finally, after an excruciating 72 hours, the answer was no.   Just no…..not even  a counter offer.  So Rob asked if they would like to counter.  The reply was a simple "No.  We don't like counter offers."
So the next morning, Rob emailed them again.  "I get that you don't like counter offers.  I don't either.  But if you were to counter, what would be your price?".  That evening we got the number we had been looking for.  The next morning, we drew up an offer that split the difference.  By bedtime, we had a deal!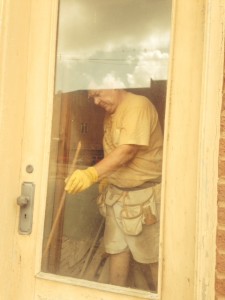 And within 10 days, Rob had opened up a door and staircase that had been closed off for over 60 years.  And what was at the top of the stairs was a treasure waiting to be discovered.