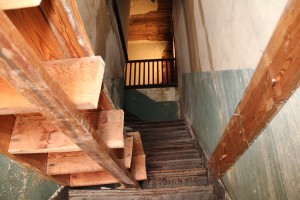 Just a staircase…..opened up for the first time in 60 years.  Let's walk up and see what's at the top…….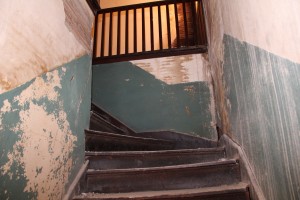 So, it has a nice little landing close to the top……interesting………….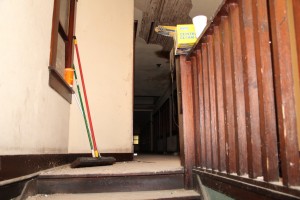 Looks like some has been sweeping up……..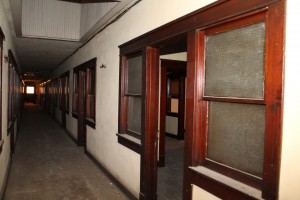 Wow….door after door after door……..
look at that wood work?
Doesn't it give you goose bumps?
Well…..it gives us goose bumps.  Every single time we walk up those stairs.
Who would have imagined that all of this amazing space full of beautiful wood work, light fixtures, hardwood floors was hidden away all of this time?  I certainly never did.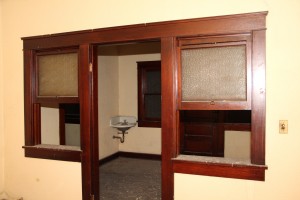 look at the trim…..look at the window glass……look at the cool corner sink
look at the neat names still in place on many of the office doors…….
Can you feel it yet?
Can you feel the life that once flowed through these spaces?
Can you imagine the 30+ people who came down from these offices onto the streets of Downtown Okmulgee for smoke breaks, lunches and hot dates after work?
Can you feel the life?  I can.
I can feel neighbors stopping in the hall ways to chat.  I can feel  friendships forming with neighbors.  I can feel plans being made and experiences.  I can feel a place of rest and retreat.
And now that the treasure has been discovered…………..let's roll up our sleeves and go!